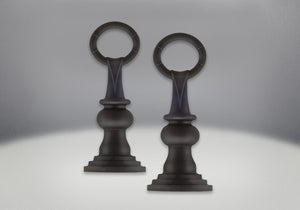 Checkout securely with
Payment methods
Napoleon Fireplaces Product Availability:
Lead time longer than usual due to supply chain. Please order to be the first in line.
Shipping & Delivery
If you're anywhere outside of the 48 contiguous states, please send us a message for a custom quote.
Napoleon Andirons Painted Black Finish ANI-K
Classic Metal Andirons for Fireplaces These andirons give a traditional look to any fireplace and make a great accent piece. Time after time, Napoleon® has led the way with new and innovative, patented technology. When you install a Napoleon® fireplace, stove or insert, you can rest assured that you will enjoy a lifetime of reliable performance year after year. With the wide variety of products, Napoleon can satisfy the heating needs in any room of your home.
---
Why buy from us?