Checkout securely with
Payment methods
Napoleon Fireplaces Product Availability:
Lead time longer than usual due to supply chain. Please order to be the first in line.
Shipping & Delivery
If you're anywhere outside of the 48 contiguous states, please send us a message for a custom quote.
Napoleon Allure Vertical 32 Electric Fireplace NEFVC32H
Create a stunning focal point with Napoleon's Allure™ Vertical Electric Fireplace. The latest in modern wall hanging electric fireplaces, Napoleon's new 32 inch tall wall hanging electric fireplace sets the mood without taking up all the space. Available in two sizes, this fireplace is not just perfect for any room but for EVERY room! The vertical design hosts a collection of features including an LED ember bed, flames and side accent lights with more than 6 color options. Heat any room inside your home with the 5,000 BTU heater that simply plugs into a standard wall outlet or can be hard wired. Operable with or without heat allows you to enjoy this statement piece all year round no matter the season. The included remote puts control at your fingertips or use the easy access controls located on the side of the fireplace.Making a grand statement that is as functional as it is beautiful has never been easier than with this trend setting fireplace.
---
Allure Vertical 32 Features
Can be plugged in or hardwired 120V
Controlled heater provides abundant warmth for up to 400 sq. ft
Crystal clear cube media ember bed included
Convenient, full function remote control included (controls flame intensity, ember bed color option, blower, heat output and timer)
Easy installation with a built-in mounting bracket, or recess it into the wall
Variety of flame color options including orange, yellow, blue and combination multi
Variety of ember bed color options including white, blue, green, red, yellow, purple and auto-cycle
Variety of accent side light color options including white, blue, green, red, yellow, purple and auto-cycle
Suitable for essentially any room including bedrooms, living rooms, kitchens and mobile homes
Five different flame speed settings and four different flame and ember bed brightness settings
Hidden vent and angled glass allows heat to be efficiently moved out into the room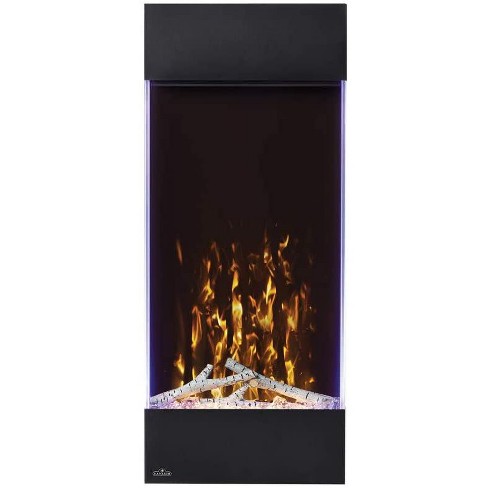 ---
Allure Vertical 32 Specifications
| | |
| --- | --- |
| Manufacturer | Napoleon |
| Model Number | NEFVC32H |
| Dimensions | H:32" x W:15.25" x D:5.50" |
| Weight | 33lbs |
| Wattage | Max 1500W |
| Amps | 15 Amps |
| BTUs | 5,000 BTU's |
| Vent | Vent Free |
| High Temp Setting | 95 degrees Fahrenheit |
| Low Temp Setting | 41 degrees Fahrenheit |
| No Heat Setting | Yes |
| Installation Type | Wall Mount or Partial Recess |
| Style | Vertical |
| Warranty | 1 year Limited Warranty |
---
Allure Vertical 32 Dimensions
---
Allure Vertical 32 Installation
For more detailed information, please reference the Allure Vertical 32 Owner's manual.
Support Links:
---
About Napoleon Fireplaces
Napoleon is a leader in the hearth industry, with over 40 years of expertise and experience. They are a leader in the industry thanks to their innovative technology and dazzling designs on gas, electric, and wood-burning fireplaces. Committed to top quality, their reputation is stamped in the industry for always excelling to push towards excellence, resulting in consistent industry awards and a fiercely loyal customer base. With their unswerving determination to quality and new innovation to leading-edge technology, Napoleon is determined to always be the best in the industry.
---
Why buy from us?