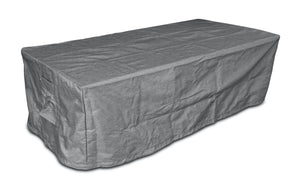 Checkout securely with
Payment methods
Athena Fireglass Product Availability:
Lead time longer than usual due to supply chain. Please order to be the first in line.
Shipping & Delivery
If you're anywhere outside of the 48 contiguous states, please send us a message for a custom quote.
Athena Fireglass Cover For Rectangle Fire Pit COVER-ORECFT-6030
Fire table cover for Olympus Rectangle Fire Pit ORECFT-6030.
Mined and crafted from the highest-grade quality glass found within Mount Olympus, comes Athena Fireglass. Our team has searched the tallest peaks of Greece to bring you the most stunning, highly reflective glass available in the marketplace today. Athena Fireglass is the only glass on the market that has the touch and shine of Zeus's thunder. Come experience our products and see why our glass is the only fire glass chosen by the Gods to captivate their guests and provide the ultimate out of this world experience.
---
Protection
Since we got our cover we have had rain ice and snow and it completely protected our fire pit. I could not be happier.
Why buy from us?