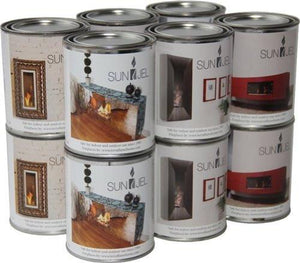 Checkout securely with
Payment methods
Estimated Shipping: In stock, ships within 3 business days.


Shipping & Delivery
If you're anywhere outside of the 48 contiguous states, please send us a message for a custom quote.
Anywhere Fireplace SunJel Gel Fuel Cans - 12 Pack
Come in 13 oz. can canisters. Sun Jel (also and formerly known as Crackling Flame) has been making quality gel fuel for fireplaces since 1985. With the cleanest burning fuel on the market, you can enjoy the comfort of a fire indoors or outdoors. All Sun Jel products are easy to light and require no ventilation. Sun Jel gives you the cozy comfort of a warm, crackling fire without the smoke and soot of a traditional wood-burning fireplace. Each can burns for approximately 3 hours with a beautiful 7-inch vibrant yellow flame and has a wonderful crackling sound. The burn time can vary depending on the environment, and some burn time variables include but are not limited to: type of fireplace, elevation, airflow, and outdoor temperature. For Use in Anywhere Fireplace Empire, Oasis, and Sutton models. 
BEFORE PURCHASING, BE SURE TO READ YOUR FIREPLACE INSTRUCTIONS FOR SAFETY AND USAGE.
PLEASE NOTE: THIS FUEL CANNOT BE SHIPPED AIR DUE TO SHIPPING RESTRICTIONS OF THIS FLAMMABLE PRODUCT. CAN ONLY BE SHIPPED WITHIN THE CONTIGUOUS STATES.
---
Why buy from us?