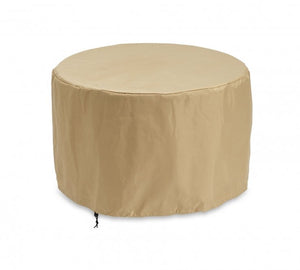 Checkout securely with
Payment methods
Outdoor GreatRoom Company Product Availability:
Lead time longer than usual due to supply chain. Please order to be the first in line.
Shipping & Delivery
If you're anywhere outside of the 48 contiguous states, please send us a message for a custom quote.
OutdoorGreat Room Protective Cover for Cove 30 and Edison Fire Pit Table CVR42
Protect your investment with a durable, weather-resistant fire table cover. Made with versatile ripstop polyester and features a drawstring cord around the bottom of the cover to secure the cover to the fire pit table.
Features
One-way Breathability: Exterior of material is water-resistant, but is one-way breathable to allow interior moisture out.
Tear-resistant Ripstop laminating.
Tan color keeps the cover cool to the touch in the sun

Passes AATC 169-2009 Resistance to Weathering testing standards.

Polyester velvet interior protects finish surfaces and materials.

A drawstring cord at base to secure cover

Fits Models
Cove 30 (CV-30)
Edison (ED-20)
Specifications
Weight 1 lb
Diameter 44"
Height 21.5"
---
Why buy from us?